There is a clear difference today when dealing with a contractor that has it together and one that doesn't. Homeowners are becoming more accustomed to technologically savvy contractors that offer high quality products and services as well as responsive customer service.
At JobFLEX, we provide contractors with the tools to deliver the high level of service that today's customers are looking for. Savvy contractors like Rich use new technology to shape their processes and increase their profits. Meanwhile, contractors like Dick remain stuck in their ways and continue to struggle to meet the needs of today's customers.
Lessons To Learn From Contractors Like Rich
Many contractors and small businesses invest time and effort in using the latest and greatest technology. But if these businesses don't build processes to use that technology effectively, that investment will end up being a big waste of money. So let's take a look at some process differences that separate successful contractors like Rich from their less successful counterparts.
Provide quick, professional looking quotes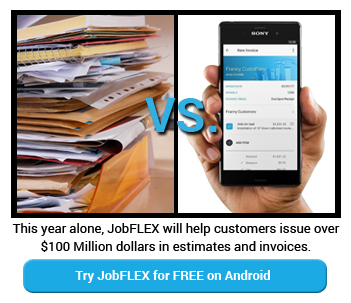 When you send a quote to a potential customer it reflects on the professionalism of your business. Regardless of how nice Dick's handwriting might be, a neatly printed quote will always appear more professional than a hand written one. Using an estimating and invoicing app like JobFLEX allows a savvy contractor like Rich to build templates for his invoices that allow him to generate, print and email quotes. This helps get his quote to customers much more quickly than contractors like Dick who fumble through writing up a manual quote for each job.
Rich also has his pricing list saved in JobFLEX so that he has all of his pricing at his fingertips as he walks through a potential job site. With a price list in hand he knows that his pricing is consistent from job to job. Meanwhile, a contractor like Dick digs through old quotes and guesses the price of labor and materials for most jobs and sometimes loses money with incorrect pricing.
Add payment terms
Getting paid on time is a big problem for many contractors, especially those that don't require a down payment before beginning a project. A contractor like Rich makes sure that his quotes require a 50 percent down payment before work begins and clearly states the penalties for late payments. Having this stated in each quote keeps his customers motivated to pay on time. Dick, however, regularly forgets to write in payment terms on his quotes and often waits for several months to receive payments from his customers.
Have a schedule to follow up on open quotes
If you're going to take the time to put a quote together then it should be a priority to follow up on it to try to win that job. A contractor like Rich sets aside time each week to run a report on JobFLEX to see what open quotes he needs to follow up on. Dick, on the other hand, doesn't have a way to easily sift through open quotes and follows up with customers too late or not at all. Because of this, contractors like Dick lose jobs every year while contractors like Rich win more business simply by having a process in place for following up on open quotes.
Get invoices out ASAP
Managing cash flow is one way savvy contractors stay ahead of the game. If you're not getting paid on time you won't stay in business for long. A contractor like Dick struggles with organization and when he gets busy he rarely gets his invoices out on time. Rich, however, can finish up at one job site, grab his Android phone and quickly turn that job's estimate into an invoice. By using JobFLEX, Rich is able to create an invoice and email it to the customer before heading to the next job site. Rich knows that invoicing immediately leads to less mistakes, better cash flow and better long term prospects for his business.