What's the fastest way to invoice your clients? The JobFLEX web or mobile app allows you to generate professional looking invoices with all kinds of customizable options. JobFLEX allows you to create estimates as well, and once the job is complete you can turn those estimates into invoices and send a PDF invoice via email in a matter of seconds. Take a free trial of JobFLEX today and see why it's such a hugely popular invoice generator for contractors and small businesses.
Downloadable Free Invoice Templates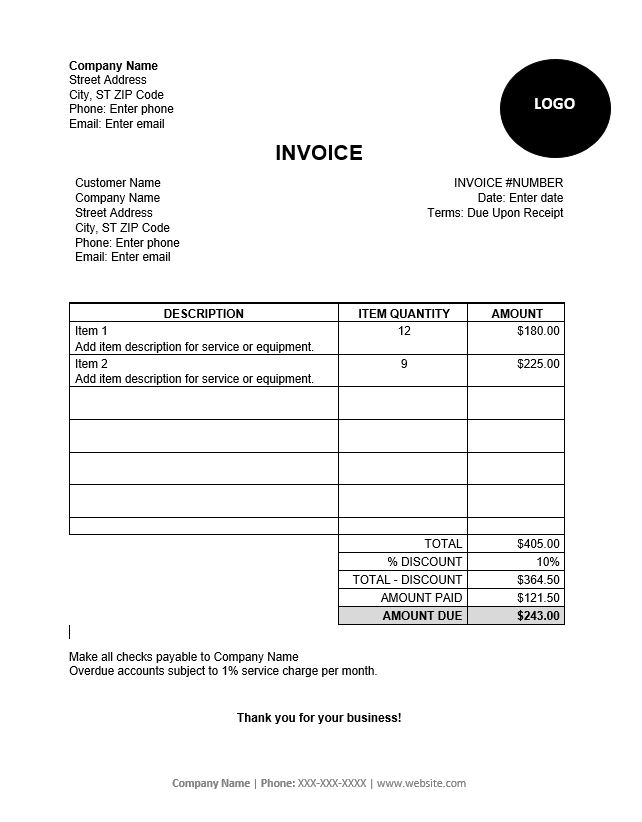 If you're looking for a quick and easy way to create an invoice, you can download any of our free, professional invoice templates below and customize them as you wish. No special invoicing software needed, just find the template that fits your needs and download the Microsoft invoice template or Google Doc invoice template and customize them with your company's information, logo, payment terms, etc. Once you add the specific information for the job you can save the invoice as a PDF and send an online invoice via email.
Version 1 – Streamlined invoice template
Contains basic invoice template with all company information and includes total cost for each item and space to include a note for each item.
Version 2 – Streamlined invoice template with quantity field
This sample invoice template includes company information, item totals, and quantity but does not include item price per unit.
Version 3 – Invoice template with discount field
Contains basic template with company information, totals for each item, space for a note, and a field that allows you to apply a discount.
Version 4 – Invoice template with field for taxes
This template includes all standard company information, and also includes a space for adding notes for each item, item totals, and a field for individual and totals for taxable items.
Version 5 – Invoice template with price per unit
This invoice template includes all basic company information, a space for notes and quantities for each item, and the price per unit and total for each item.
Version 6 – Invoice template without a down payment
This invoice template includes all basic company information, a space to create an itemized list with notes and a total amount due. This template does not include a space for a down payment.
Industry Specific Templates
Ready to take the next step in invoicing?
Running a small business as a contractor is hard enough without worrying about your customers paying or being so busy invoicing that you barely have time to run your business. While the free invoice template downloads above can be a good first step in saving time with your invoicing, they don't hold a candle to the power and flexibility of a tool like JobFLEX. With JobFLEX, you can create invoices right from the jobsite and send your invoice before you leave. No more nights and weekends spent piecing together invoices from memory or shuffling through piles of paperwork. Also, JobFLEX allows you to save your preferences for payment terms and additional notes like late payment penalties so every customer knows when to pay. If invoices are overdue you can also quickly run a report and follow up with those customers to make sure you're getting paid! Why spend your time manually creating each and every invoice and tracking down late payments when JobFLEX lets you do everything right from your mobile device? See how much easier JobFLEX will make your life by taking a free trial today!