In today's increasingly tech savvy marketplace, everyone is looking for ways to gain an advantage and impress customers with useful, easy to use technology. More and more consumers are comfortable making online transactions and find them fare more convenient and efficient than the old fashioned paper based process. As a contractor, utilizing electronic signatures can be another item that not only helps you gain and retain customers, it can also be much more cost efficient.
Electronic Signatures Help You Get Paid and Begin Jobs More Quickly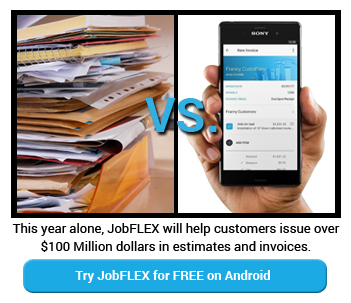 In previous posts we've discussed the importance of getting a down payment on your jobs to improve your cash flow. This process is sped along with the help of electronic signatures and helps put money in your pocket MUCH quicker. Currently, most companies go through the process of providing a hand written quote or an emailed quote. In either instance the customer either has to physically sign and return a copy in person or by mail, or they need to print, sign, scan and return. Needless to say, this isn't efficient for the customer and it creates more manual paperwork headaches for you as a contractor.
Using JobFLEX, however, allows the customers to sign quotes electronically on their phone or desktop. When a potential customer electronically signs the estimate, JobFLEX will automatically update the job status to "sold" in the app and you can then verify you have received payment. If your customer requires an invoice, you can automatically generate that for them within JobFLEX as well.
More Benefits of Electronic Signatures
Clearly, using electronic signatures can help you get paid more quickly and streamline your payment process, but there are many other benefits to consider as well, which also make JobFLEX an excellent business tool for contractors looking to get a leg up on their competition.
Increased customer satisfaction
Improved employee productivity
Reduced office expenses and labor from manual paperwork
Better tracking of sold jobs so you know when to invoice
Faster scheduling of jobs because it's easier for customers to respond
Automation improves customer close rates
Easy to send reminders based on tracking open quotes
If you haven't yet made the switch to using electronic signatures, there's no better time to start than now. Click the link below to start your free trial of JobFLEX and see how this capability can help move your business into the future.